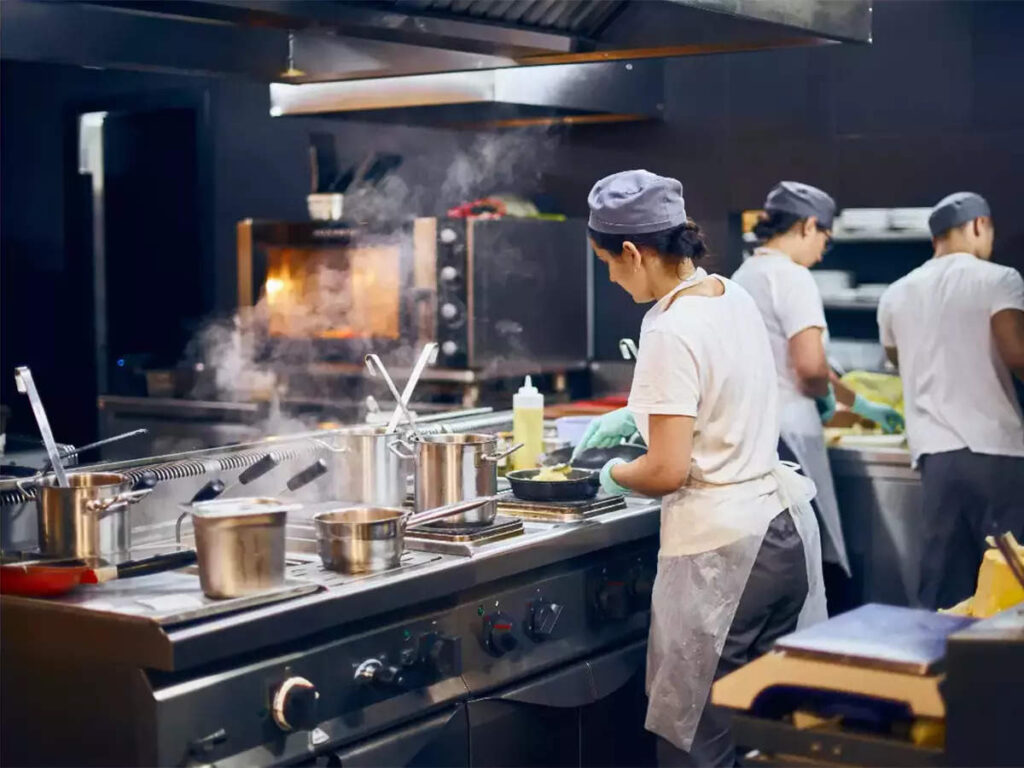 TYPES OF CLOUD KITCHENS
The cloud kitchen business model has undergone many variations and has diversified into the following types 
Standalone/Single-brand Cloud Kitchens

Virtual Restaurants

Multi-brand Cloud Kitchens

Shared Kitchen Spaces

Aggregator-managed Cloud Kitchens

Operator-managed Cloud Kitchens
(i) Standalone/Single Brand Cloud Kitchens
The theme and concept of a standalone/single brand cloud kitchen are the same. It usually serves 1-2 cuisines and has a short menu of about 10-15 items. The average size of a standalone cloud kitchen is roughly 300 square feet.
(ii) Virtual Restaurants
A virtual restaurant is a business that operates out of a physical location. These brands are solely offered on online food aggregators, and they use the current restaurant's culinary equipment and resources, but under a different brand name. The virtual brand serves a menu that differs from that of the main restaurant, and it might be a fun opportunity to try out a new cuisine that isn't as well-known as the main restaurant's.
(iii) Multi-brand Cloud Kitchens
The cloud kitchen business model gives restaurateurs the freedom to launch various brands while also making growth simple.
A multi-brand cloud kitchen is a huge kitchen infrastructure that allows numerous brands of the same firm to work simultaneously while using the same equipment and resources. These brands are cuisine-specific, catering to particular Target Groups and satisfying diverse client needs.
The multi-brand cloud kitchen concept allows businesses to serve a broader audience while also increasing sales to existing consumers.
Additionally, having many listings on aggregators allows the company to reach a larger audience, allowing them to reach out to a larger consumer base.
(iv) Co-working Kitchen Spaces
A co-working cloud kitchen space, also known as shared kitchen space, commissary kitchen, etc., is a large kitchen infrastructure, which multiple restaurant brands can rent and occupy and run operations. These kitchen spaces have individual kitchen units for each brand, fitted with the necessary equipment and utilities. These kitchens are again located at strategic locations with high customer demand, especially for specific cuisines. 
(v) Aggregator Managed Cloud Kitchens
Aggregator cloud kitchens are large co-working kitchen spaces managed by the online food aggregators. The aggregators invite their top restaurant partners to prepare food for delivery-only from these kitchen spaces. 
The two major players in the Indian food delivery space, Swiggy, and Zomato have both tried their hands in the cloud kitchen business through this type of cloud kitchen business model.
Zomato launched Zomato Infrastructure Services in 2018, with the aim of providing restaurant brands the infrastructure and utilities to run operations. Although ZIS shut shop after the failure of its pilot kitchen in Dwarka, the idea of co-working kitchen space has become quite popular in the industry and has been adopted by several other players.
The other online food ordering giant Swiggy launched Swiggy Access that has partner restaurants setting up operations through co-working kitchen spaces. Swiggy Access is operational across the nation and plans to onboard new restaurants in over 30 cities by 2020. Swiggy Access also houses Swiggy's private labels The Bowl Company and Homely which are operational from the same infrastructure as the other brands. The company currently has more than 600 kitchens, both private brands as well as Access kitchens.
(vi) Operator Managed Cloud Kitchens
In an operator-managed cloud kitchen, the kitchen operator runs the operations of existing or upcoming restaurant brands on their behalf. The brands are listed separately on online food aggregators and can also receive orders from the cloud kitchen operator's central food ordering website/mobile app or call center. All operations, right from accepting the order online and preparing it, to getting it delivered through third-party logistics is taken care of by the operator.
Operator-managed cloud kitchens are like virtual franchising models, and one of the best ways of expanding the cloud kitchen business.
Popular biryani chain Biryani Blues has started operations in Dubai by partnering with the cloud kitchen operator Kitopi. Biryani Blues has currently three outlets with Kitopi and works on a revenue-sharing model.
Another classification of cloud kitchen:
Independent Cloud Kitchen Model
Faasos Business Model
Freshmenu Business Model
Swiggy Access Business Model
There are various types of Cloud Kitchens that you can opt for. It depends on your entrepreneurial acumen as to what specific model is best suited to your business. Several types of Cloud Kitchens have been discussed below.
Independent Cloud Kitchen Model
The classic model serves one restaurant per kitchen. It has no tangible dining space or seating arrangement. It is the first and foremost online food delivery model that started gaining popularity in the last few years.  
Faasos Business Model
In this type of Cloud Kitchen model, multiple brands are offering numerous cuisines spread over several outlets across the city. A lot of research goes into this particular model as the kitchens are opened based on several parameters. The most important parameter is the preference of cuisine among people of a particular neighborhood. The costs are minimized as there is one mother kitchen umbrella with numerous brands under it. Like the previous model, there is no dining space here either. 
Freshmenu Business Model
It is a mix of both the afore-mentioned models. There is one kitchen with multiple outlets but used by one brand. There is a shop front with display windows that makes it more interactive for the customers. Additionally, the availability of takeaway options adds to the convenience of the customers. 
Swiggy Access Business Model
This particular business model is owned by Swiggy. It is a ghost kitchen that has a space equipped with all the infrastructures. Restaurants can rent the space and take advantage of Swiggy's online delivery platform and promotional schemes. This gives the restaurants a huge exposure and introduces them to a large batch of customers. Swiggy's online ordering platform is featured with numerous advantages including its marketing strategies apart from its delivery fleet. All in all, the restaurant only needs to focus on providing quality food. Swiggy is here to take care of all the other aspects of business making.  
FEW EXAMPLES OF  CLOUD KITCHEN:
Uber founder and former chief executive Travis Kalanick, who resigned from the company in June 2017 amid controversy, has returned to the food delivery market through his new investment fund, 10100, or 'ten one hundred'. 
Well-aware of the potential of food delivery and cloud kitchens, 10100 has invested $150 million into City Storage Systems, which will focus on undervalued real-estate. The holding company has two businesses, CloudKitchens and CloudRetail, the former opening large-scale shared kitchens with the aim of taking advantage of the delivery-only boom. 
Although he is currently focused on more on India and China than the US, given Kalanick's experience and connections at Uber, this is one to watch for the future. 
Former executives at Taco Bell and McDonalds have teamed up to create the fast-growing Kitchen United, which recently added another $40 million to its initial funding round of $10 million led by GV, the investment fund of Google's parent company, Alphabet. With the might of Google behind it and experienced founders, Kitchen United is another big name to watch in the cloud kitchen world.
Virtual Kitchen Co. recently announced its formal launch after securing $15 million of Series A funding from 'super angel' investors Andreessen Horowitz and automation-focussed investment firm Base10 Partners. Virtual Kitchen Co, which already operates several delivery-only kitchens in San Francisco, plans to open a dozen more in the Bay Area in the next six months. 
Doordash is the first delivery platform to make a physical move in the cloud kitchen market. The San Francisco based company has opened a kitchen in nearby Redwood City, aimed at helping restaurant brands, including Chick-fil-A, scale the delivery side of their businesses.
The shared kitchen is strategically located to enable delivery and pick-up for affluent residential areas such as Palo Alto and Menlo Park, that the participating restaurant brands weren't previously able to deliver to.
This is an experimental departure for DoorDash, so it will be interesting to see the results and whether other delivery platforms follow the lead.