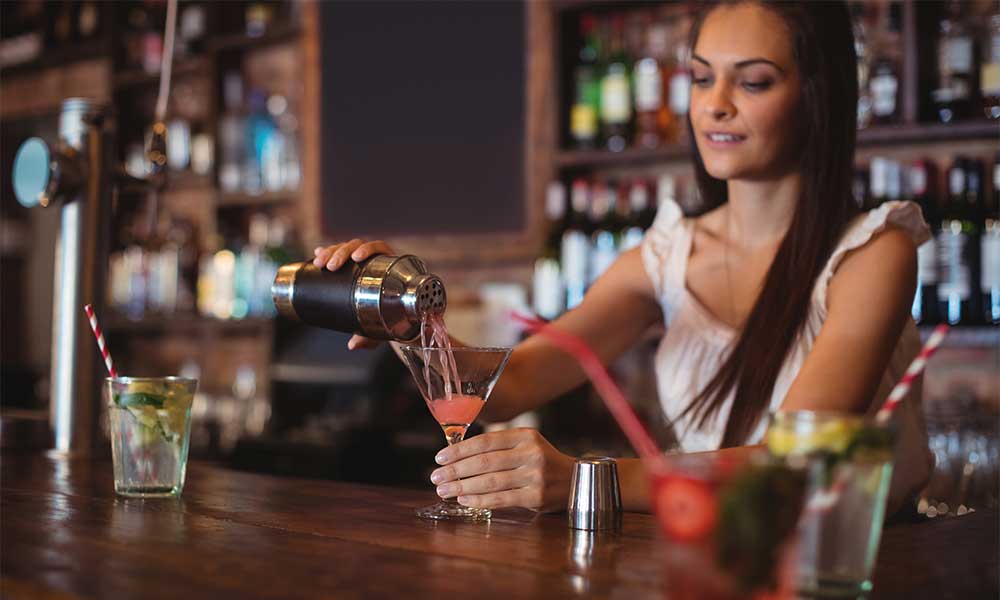 Author: Vijender Noonwal, June 14, 2020 
INTRODUCTION:
Before starting discussion on this huge topic, let me explain you that bartending is a demanding profession.
Whenever we think or heard the term BAR, it automatically struck in our mind about the various kinds of Cocktails, Mocktails or alcoholic and non-alcoholic beverages, the eye appealing ambience, a well maintained space, light music and finally of course the groomed staff.
The growth of any outlet is totally depending on the staff because they directly deal with the customers to generate revenue. If you are energetic, smart, and knowledgeable and also have manipulative skills, then you are fit for bartending.
Now I come to the main point i.e. The career opportunities for women in bartending
If women are willing to become a bartender, they are most welcomed by the outlets as they need them to promote their drinks as well as outlet; it is a universal truth that women get the more attention than men. The women bartenders can manipulate the preferences of the customers accordingly and therefore may be more focused to increase the sales in bars. There are many outlets, where women work such as restaurants, front office departments, housekeeping departments, food production departments and so on… to generate a handsome salaries.
Why women do not prefer to work in bars in India:
In India, bar is not a good platform to work for women because:
If a women work in bar that directly raise a question on their character, even more, the customers pretend them eye candy.

Women almost never get a regular bartending jobs as women are not allowed to bartend after8:30 pm in India. If the women are offered a regular job that is day shift only.

Insecurity of women for the constant harassment they face in day to day lives.

Jessica lal murder case in 1999 had generated a lot of debate regarding the safety of women bartender in India.
Now the question is Why women should join as bartender?
If you are going to be a bartender, your job is secure and guaranteed for life.

Technology is not going to kick bartenders out of their jobs any time soon.

It makes you more familiar with the mass as the doors open for all.

Creating cocktails, flaring of bottles is an art itself and seeing your hand surprise and awe of the beauty that is before their eyes, is a fantastic feeling.

Every day is a pay day because the bartenders get a huge tips – working behind bar is a line of work – the greater efforts you put into serving your guests, the possibility of greater to get financial benefits.

A lot of bartenders have the chance to become a bar manager, or even take over the bar of their retired boss.

Women bartenders are in fact safer than most of the women sitting in a bar or club since they have bar counter separating them from the customer, management and security personnel present in the establishment.

If you have skills & knowledge in place the confidence shows and nobody messes with you.
The future of women in the bartending industry is definitely not bleak; both Shatbhi and Vijay pal shared their positive thinking that in future there will be more and more women indulge in the bartending courses to become bartender.
BRAVE WOMEN BARTENDERS IN INDIA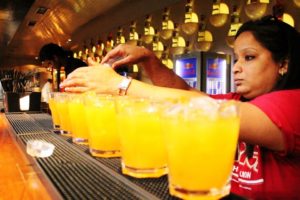 Dhanashree Punekar, Blue Frog, Mumbai
She developed an interest in beverages and started creating new mocktails and cocktails, eventually got into mixology and never looked back. She switched many jobs to become what she popularly calls as a 'liquid chef'. Despite coming from a conservative family, Dhanashree's family has always been supportive of her dreams and proud of her achievements.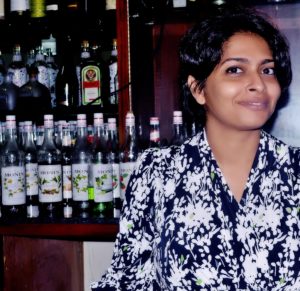 Colette Pereira
She recently left her career in Public Relations and Marketing to pursue bartending at Cocktails & Dreams (school of bar and beverage operations, Mumbai). Her family was very supportive and glad that she eventually decided to follow her passion for mixology. In 2007, came the landmark judgement of the Supreme Court of India, which not only overturned an archaic 1914 law that prohibited women from tending bars in the National Capital Region but it also stressed upon the fact that it was the duty of the State to ensure safety of women who choose to work at bars.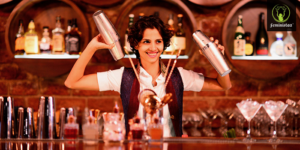 Ami Behram Shroff
Flair bartending is a thing and Ami Behram Shroff decided to give it a shot when she was a teenager. Since then, she has never looked back. The result is that today she is one of India's few women flair bartenders who is sought after for special events and gigs. If that's not enough, she is also an accomplished mixologist which makes her a complete professional at the bar. Flair bartending is basically an art of entertaining the audience with tools available at the bar including shakers, bottles, glasses, ice et al and mix fire, juggling and even magic to it.
Vibutti Angane
Vibhuti has been in the hospitality industry for a long time and is now taking the legacy forward by teaching at ICE College of Hotel Management in Mumbai. Vibhuti has had her own experiences of sleepless nights, standing behind the counter for hours to be able to connect to her audience's individual tastes. In one of her interviews, she said she believed in nothing but brilliance, which is a level beyond satisfaction.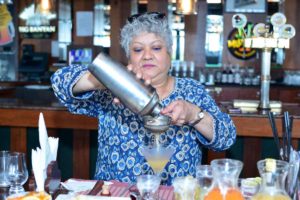 Shatbhi Basu:
Shatbhi Basu is not a mere celebrity, she is considered to be the pioneer of bartending in India with experience which spans over three decades. She is regarded as an inspiration by many and her lustrous career is the perfect example of how much a person in the industry can achieve. She has in the past hosted a television show on mixology, authored a column in a mainstream daily as well as a book. Plus, she runs her own professional bartending academy called STIR (Mumbai).
Priyanka Kandalkar Devsaria
Working in Flairology Bar School in Mumbai, Priyanka Kandalkar Devsaria has had her own share of experiences in this industry. While she studied at the University of Mumbai, Priyanka found alco-beverages one of the most strenuous courses. Considering her interest in bartending, she joined a bar training academy to hone her skills. After working with several top-notch hotels, she is now a freelancer and a mixology trainer at the same time.
References:
Article: 3 Cheers to these women pioneers who are exploring an uncharted career path in India – Bartending, Auther – Aanchal Kataria, July 10, 2014